PG 2-A Automatic Powder Gun

The extremely lightweight PG 2-A Automatic powder gun with an integrated high-voltage
generator has a very high penetration power and a high, constant transfer efficiency because
of its patented air-cleaned central electrode. The gun can be dismantled, making it easy to
maintain and repair.
Technical data of the PG 2-A and PG 2-AX Automatic Powder Guns
Rated input voltage: 10 V eff.
Frequency: 17 kHz.
Rated output voltage: 98 kV.
Polarity: Negative (Positive - Option).
Maximum output current: 100 μA.
Flash protection: Type A - according to EN 50177*
*Type A : "Systems complying with EN 50050:1986 with a discharge energy of 5 mJ."
"In these systems there is no danger of either electric shock or incendive energy"
Connection : The PG 2-A(X) should only be connected to PGC 1, PGC 2, PGC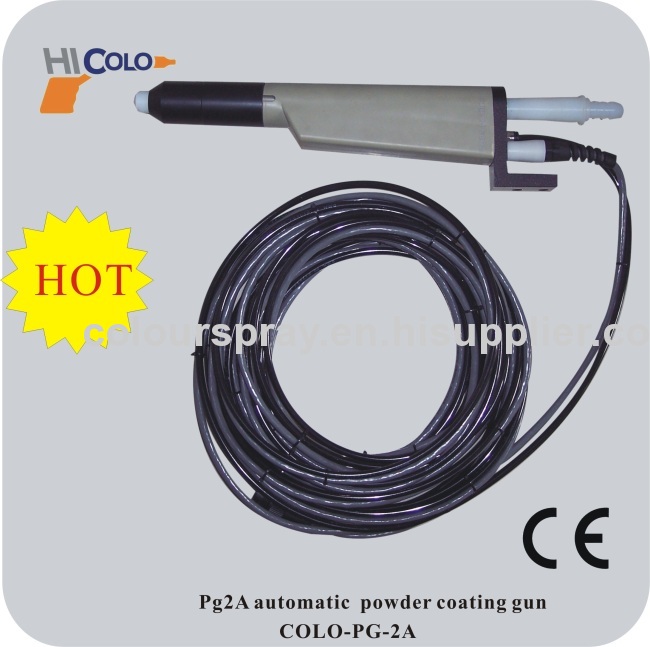 Safety
rules for electrostatic powder coating operations
1. This equipment can be dangerous when not operated according to the following operating
instructions.
2. In addition, the equipment must be set up and operated according to the latest local
standards.
3. The operating instructions of the powder recovery plant must also be observed.
4. All electrostatic conductive parts which are within 5 metres of the coating
area, especially the workpieces, must be grounded.
5. The floor of the coating area must be electrostatically conductive. Normal concrete is
generally conductive.
6. The operating personnel must wear electrostatically conductive footwear, i.e. leather
soles.
7. It is important that a good metal-to-metal contact exists between the control unit(s), the
gun(s), coating booth, and the workpiece conveyor system.
8. The electrical cables and powder feed hoses to the gun(s) must be laid out so that they
are protected from mechanical damage.
9. The powder coating equipment should only be switched on after the coating booth is in
operation. If the booth breaks down then the powder coating equipment must also
switch off.
10. The ground leakage resistance of the workpiece contact point can be a maximum of
1 MΩ. The design of the workpiece suspension and hooks must ensure that the workpieces
remain grounded.
N.B :
Because the workpieces are grounded through metal hooks, it is important that the
hooks are cleaned regularly, in order to prevent an insulating layer of melted coating
powder from building up.
11. Check the grounding of all electrostatic conductive parts at least once a week.
12. When cleaning the gun or changing nozzles the control module must be switched off.